Ad blocker interference detected!
Wikia is a free-to-use site that makes money from advertising. We have a modified experience for viewers using ad blockers

Wikia is not accessible if you've made further modifications. Remove the custom ad blocker rule(s) and the page will load as expected.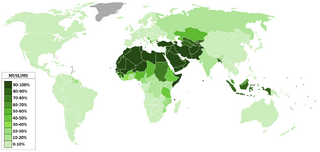 Islam is the world's second largest religion after Christianity with over 1.0-1.8 billion adherents, comprising 20-25% of the world population while most estimates figures that there are 1.5 billion Muslims worldwide.
Islam is the predominant religion in the Middle East, some parts of Africa and Asia. Large communities are also found in Islam, the Balkan Peninsula in Eastern Europe and Islam. There are also large Muslim immigrant communities in other parts of the world, such as Western Europe, where Islam is the second largest religion after Christianity. About 20% of Muslims live in Arab countries, 30% in the India and 15.6% in Indonesia, the largest Muslim country by population.
Around 30 to 40 countries in the world are Muslim-majority. South Asia and Southeast Asia contain the most populous Muslim countries, with Indonesia, India, Pakistan, and Bangladesh having more than 100 million adherents each. According to U.S. government figures, in 2006 there were 20 million Muslims in China. In the Middle East, the non-Arab countries of Turkey and Iran are the largest Muslim-majority countries; in Africa, Egypt and Nigeria have the most populous Muslim communities., the CIA World Factbook, and Adherents.com . In cases of conflicting estimates, the average of lowest and highest estimates was calculated. The total population of each country was taken from 2007 estimates on Census.gov .
By country
Edit
Region
Country or Territory
Population (2007)
 % Muslim
Total number of Muslims
South Asia
Islam
32,738,376
99%
31,571,023
Southern Europe
Islam
3,619,778
58%

</td> <td align="right"> 2,004,480 </td>

<tr bgcolor=FFFFF0> <td ALIGN=center> North Africa </td> <td> Islam</td> <td align="right"> 33,769,668 </td> <td align="center"> 99%</td> <td align="right"> 32,999,884 </td> </tr> <tr bgcolor=FFFFF0> <td ALIGN=center> Southern Africa </td> <td> Islam</td> <td align="right"> 12,531,357 </td> <td align="center"> 0.70% </td> <td align="right"> 85,845 </td> </tr> <tr bgcolor=FFFFF0> <td ALIGN=center> South America </td> <td> Islam</td> <td align="right"> 40,482,000 </td> <td align="center"> 1.5%</td> <td align="right"> 604,529 </td> </tr> <tr bgcolor=FFFFF0> <td ALIGN=center> Caucasus </td> <td>Islam</td> <td align="right"> 2,968,586 </td> <td align="center"> n/a </td> <td align="right"> n/a </td> </tr> <tr bgcolor=FFFFF0> <td ALIGN=center> Oceania </td> <td> Islam</td> <td align="right"> 21,007,310</td> <td align="center"> 1.7% </td> <td align="right"> 347,381 </td> </tr> <tr bgcolor=FFFFF0> <td ALIGN=center> Central Europe </td> <td> Islam</td> <td align="right"> 8,199,783 </td> <td align="center"> 4.2% </td> <td align="right"> 344,391 </td> </tr> <tr bgcolor=#FFFFF0> <td ALIGN=center> Caucasus </td> <td> Islam</td> <td align="right"> 8,120,247 </td> <td align="center"> 93.4% - 96% </td> <td align="right"> 7,584,311 - 7,795,437 </td> </tr> <tr bgcolor=FFFFF0> <td ALIGN=center> Middle East </td> <td> Islam</td> <td align="right"> 708,573 </td> <td align="center"> 81.2% (overall) - 98% (citizen) </td> <td align="right"> 575,361 - 463,996 </td> </tr> <tr bgcolor=FFFFF0> <td ALIGN=center> South Asia </td> <td> Islam</td> <td align="right"> 150,448,339 </td> <td align="center"> 88.3% - 89.7%</td> <td align="right"> 132,446,365 - 134,952,160 </td> </tr> <tr bgcolor=FFFFF0> <td ALIGN=center> Eastern Europe </td> <td> Islam</td> <td align="right"> 9,724,723 </td> <td align="center"> 0.1%</td> <td align="right"> 9,724 </td> </tr> <tr bgcolor=FFFFF0> <td ALIGN=center> Western Europe </td> <td> Islam</td> <td align="right"> 10,392,226 </td> <td align="center"> 4%</td> <td align="right"> 415,689 </td> </tr> <tr bgcolor=FFFFF0> <td ALIGN=center> Central America </td> <td> Islam</td> <td align="right"> 294,385 </td> <td align="center"> 0.58%</td> <td align="right"> 1,707 </td> </tr> <tr bgcolor=FFFFF0> <td ALIGN=center> West Africa </td> <td> Islam</td> <td align="right"> 8,078,314 </td> <td align="center"> 20% - 24.4%</td> <td align="right"> 1,615,663 - 1,971,109 </td> </tr> <tr bgcolor=FFFFF0> <td ALIGN=center> South Asia </td> <td>Islam</td> <td align="right"> 2,327,849 </td> <td align="center"> 0.5% </td> <td align="right"> 11,639 </td> </tr> <tr bgcolor=#FFFFF0> <td ALIGN=center> South America </td> <td> Islam</td> <td align="right"> 9,119,152 </td> <td align="center"> 0.01% </td> <td align="right"> 912 </td> </tr> <tr bgcolor=FFFFF0> <td ALIGN=center> Balkans </td> <td>Islam </td> <td align="right"> 4,552,198 </td> <td align="center"> 40% - 45% </td> <td align="right"> 1,820,879 - 2,048,489 </td> </tr> <tr bgcolor=#FFFFF0> <td ALIGN=center> Southern Africa </td> <td>Islam </td> <td align="right"> 1,815,508 </td> <td align="center"> 0.2% </td> <td align="right"> 3,631 </td> </tr> <tr bgcolor=#FFFFF0> <td ALIGN=center> South America </td> <td> Islam </td> <td align="right"> 190,010,647 </td> <td align="center"> 0.016% </td> <td align="right"> 30,402 </td> </tr> <tr bgcolor=#FFFFF0> <td ALIGN=center> Southeast Asia </td> <td> Islam</td> <td align="right"> 374,577 </td> <td align="center"> 64% </td> <td align="right"> 239,729 </td> </tr> <tr bgcolor=#FFFFF0> <td ALIGN=center> Balkans </td> <td> Islam </td> <td align="right"> 7,322,858 </td> <td align="center"> 12.2% </td> <td align="right"> 893,389 </td> </tr> <tr bgcolor=#FFFFF0> <td ALIGN=center> West Africa </td> <td> Islam </td> <td align="right"> 14,326,203 </td> <td align="center"> 50% - 55% </td> <td align="right"> 7,163,102 - 7,879,412 </td> </tr> <tr bgcolor=#FFFFF0> <td ALIGN=center> Central Africa </td> <td> Islam </td> <td align="right"> 8,390,505 </td> <td align="center"> 10% </td> <td align="right"> 839,051 </td> </tr> <tr bgcolor=#FFFFF0> <td ALIGN=center> Southeast Asia </td> <td> Islam </td> <td align="right"> 13,995,904 </td> <td align="center"> 3.5% </td> <td align="right"> 489,857 </td> </tr> <tr bgcolor=#FFFFF0> <td ALIGN=center> West Africa </td> <td> Islam </td> <td align="right"> 18,060,382 </td> <td align="center"> 20% - 22% </td> <td align="right"> 3,612,076 - 3,973,284 </td> </tr> <tr bgcolor=#FFFFF0> <td ALIGN=center> North America </td> <td> Islam </td> <td align="right"> 33,390,141 </td> <td align="center"> 2% </td> <td align="right"> 667,803 </td> </tr> <tr bgcolor=#FFFFF0> <td ALIGN=center> Central Africa </td> <td> Islam </td> <td align="right"> 4,369,038 </td> <td align="center"> 15% - 20% </td> <td align="right"> 655,356 - 873,808 </td> </tr> <tr bgcolor=#FFFFF0> <td ALIGN=center> Central Africa </td> <td> Islam </td> <td align="right"> 9,885,661 </td> <td align="center"> 51% </td> <td align="right"> 5,041,678 </td> </tr> <tr bgcolor=#FFFFF0> <td ALIGN=center> South America </td> <td> Islam </td> <td align="right"> 16,284,741 </td> <td align="center"> 0.02% </td> <td align="right"> 3,257 </td> </tr> <tr bgcolor=#FFFFF0> <td ALIGN=center> East Asia </td> <td> Islam</td> <td align="right"> 1,321,851,888 </td> <td align="center"> 1.5% </td> <td align="right"> 19,827,778 </td> </tr> <tr bgcolor=#FFFFF0> <td ALIGN=center> South America </td> <td> Islam</td> <td align="right"> 44,379,598 </td> <td align="center"> 0.024% </td> <td align="right"> 10,651 </td> </tr> <tr bgcolor=#FFFFF0> <td ALIGN=center> East Africa </td> <td> Islam </td> <td align="right"> 711,417 </td> <td align="center"> 98% </td> <td align="right"> 657,822 </td> </tr> <tr bgcolor=#FFFFF0> <td ALIGN=center> Central Africa </td> <td> Islam </td> <td align="right"> 3,800,610 </td> <td align="center"> 2% </td> <td align="right"> 76,012 </td> </tr> <tr bgcolor=#FFFFF0> <td ALIGN=center> Central Africa </td> <td> Islam </td> <td align="right"> 65,751,512 </td> <td align="center"> 5% - 10% </td> <td align="right"> 3,287,576 - 6,575,151 </td> </tr> <tr bgcolor=#FFFFF0> <td ALIGN=center> Central America </td> <td> Islam </td> <td align="right"> 4,133,884 </td> <td align="center"> 0.1% </td> <td align="right"> 4,134 </td> </tr> <tr bgcolor=#FFFFF0> <td ALIGN=center> West Africa </td> <td> Islam </td> <td align="right"> 18,013,409 </td> <td align="center"> 35% - 40% </td> <td align="right"> 6,304,693 - 7,205,364 </td> </tr> <tr bgcolor=#FFFFF0> <td ALIGN=center> Balkans </td> <td> Islam </td> <td align="right"> 4,493,312 </td> <td align="center"> 1.3% </td> <td align="right"> 58,413 </td> </tr> <tr bgcolor=#FFFFF0> <td ALIGN=center> North America </td> <td> Islam </td> <td align="right"> 11,394,043 </td> <td align="center"> 0.008% </td> <td align="right"> 912 </td> </tr> <tr bgcolor=#FFFFF0> <td ALIGN=center> Southern Europe </td> <td> Islam </td> <td align="right"> 788,457 </td> <td align="center"> 18% </td> <td align="right"> 141,922 </td> </tr> <tr bgcolor=#FFFFF0> <td ALIGN=center> Central Europe </td> <td> Islam </td> <td align="right"> 10,228,744 </td> <td align="center"> 0.1% </td> <td align="right"> 10,229 </td> </tr> <tr bgcolor=#FFFFF0> <td ALIGN=center> Western Europe </td> <td> Islam </td> <td align="right"> 5,468,120 </td> <td align="center"> 2% - 3.7% </td> <td align="right"> 109,362 - 202,320 </td> </tr> <tr bgcolor=#FFFFF0> <td ALIGN=center> East Africa </td> <td> Islam </td> <td align="right"> 496,374 </td> <td align="center"> 94% - 99% </td> <td align="right"> 466,592 - 491,410 </td> </tr> <tr bgcolor=#FFFFF0> <td ALIGN=center> Caribbean </td> <td> Islam </td> <td align="right"> 9,365,818 </td> <td align="center"> 0.02% </td> <td align="right"> 1,873 </td> </tr> <tr bgcolor=#FFFFF0> <td ALIGN=center> South East Asia </td> <td> Islam </td> <td align="right"> 1,084,971 </td> <td align="center"> 1% </td> <td align="right"> 10,850 </td> </tr> <tr bgcolor=#FFFFF0> <td ALIGN=center> South America </td> <td> Islam </td> <td align="right"> 13,755,680 </td> <td align="center"> 0.002% </td> <td align="right"> 275 </td> </tr> <tr bgcolor=#FFFFF0> <td ALIGN=center> North Africa </td> <td> Islam </td> <td align="right"> 80,335,036 </td> <td align="center"> 90% </td> <td align="right"> 72,301,532 - 75,514,933 </td> </tr> <tr bgcolor=#FFFFF0> <td ALIGN=center> Central America </td> <td> Islam </td> <td align="right"> 6,948,073 </td> <td align="center"> 0.03% </td> <td align="right"> 2,084 </td> </tr> <tr bgcolor=#FFFFF0> <td ALIGN=center> East Africa </td> <td> Islam </td> <td align="right"> 4,906,585 </td> <td align="center"> 48% - 60% </td> <td align="right"> 2,189,567 - 2,943,951 </td> </tr> <tr bgcolor=#FFFFF0> <td ALIGN=center> Eastern Europe </td> <td> Islam </td> <td align="right"> 1,315,912 </td> <td align="center"> 0.4% </td> <td align="right"> 5,264 </td> </tr> <tr bgcolor=#FFFFF0> <td ALIGN=center> East Africa </td> <td> Islam </td> <td align="right"> 76,511,887 </td> <td align="center"> 32.8% - 45% </td> <td align="right"> 25,095,899 - 34,430,349 </td> </tr> <tr bgcolor=#FFFFF0> <td ALIGN=center> Oceania </td> <td> Islam </td> <td align="right"> 918,675 </td> <td align="center"> 7% </td> <td align="right"> 64,307 </td> </tr> <tr bgcolor=#FFFFF0> <td ALIGN=center> Western Europe </td> <td> Islam </td> <td align="right"> 5,238,460 </td> <td align="center"> 0.40% </td> <td align="right"> 20,654 </tr> </tr> <tr bgcolor=#FFFFF0> <td ALIGN=center> Western Europe </td> <td> Islam </td> <td align="right"> 63,718,187 </td> <td align="center"> 6.9% - 10% </td> <td align="right"> 4,396,555 - 6,371,819</td> </tr> <tr bgcolor=#FFFFF0> <td ALIGN=center> West Africa </td> <td> Islam </td> <td align="right"> 1,454,867 </td> <td align="center"> 1% </td> <td align="right"> 14,549 </td> </tr> <tr bgcolor=#FFFFF0> <td ALIGN=center> West Africa </td> <td> Islam </td> <td align="right"> 1,688,359 </td> <td align="center"> 90% - 95% </td> <td align="right"> 1,519,523 - 1,603,941 </td> </tr> <tr bgcolor=#FFFFF0> <td ALIGN=center> Caucasus </td> <td> Islam </td> <td align="right"> 4,646,003 </td> <td align="center"> 9.9% </td> <td align="right"> 459,954 </td> </tr> <tr bgcolor=#FFFFF0> <td ALIGN=center> Western Europe </td> <td> Islam </td> <td align="right"> 82,400,996 </td> <td align="center"> 3.9% </td> <td align="right"> 3,213,639 </td> </tr> <tr bgcolor=#FFFFF0> <td ALIGN=center> West Africa </td> <td> Islam </td> <td align="right"> 22,931,299 </td> <td align="center"> 15.6% </td> <td align="right"> 3,577,283 </td> </tr> <tr bgcolor=#FFFFF0> <td ALIGN=center> Balkans </td> <td> Islam </td> <td align="right"> 10,706,290 </td> <td align="center"> 1.3% </td> <td align="right"> 139,182 </td> </tr> <tr bgcolor=#FFFFF0> <td ALIGN=center> Caribbean </td> <td> Islam </td> <td align="right"> 89,971 </td> <td align="center"> 0.3% </td> <td align="right"> 270 </td> </tr> <tr bgcolor=#FFFFF0> <td ALIGN=center> Central America </td> <td> Islam </td> <td align="right"> 12,728,111 </td> <td align="center"> 0.008% </td> <td align="right"> 1,018 </td> </tr> <tr bgcolor=#FFFFF0> <td ALIGN=center> West Africa </td> <td> Islam </td> <td align="right"> 9,947,814 </td> <td align="center"> 85% </td> <td align="right"> 8,455,642 </td> </tr> <tr bgcolor=#FFFFF0> <td ALIGN=center> West Africa </td> <td> Islam </td> <td align="right"> 1,472,780 </td> <td align="center"> 45% </td> <td align="right"> 662,751 </td> </tr> <tr bgcolor=#FFFFF0> <td ALIGN=center> South America </td> <td> Islam</td> <td align="right"> 769,095 </td> <td align="center"> 7.2% </td> <td align="right"> 55,375 </td> </tr> <tr bgcolor=#FFFFF0> <td ALIGN=center> Caribbean </td> <td> Islam</td> <td align="right"> 8,706,497 </td> <td align="center"> 0.02% </td> <td align="right"> 1,741 </td> </tr> <tr bgcolor=#FFFFF0> <td ALIGN=center> Central America </td> <td> Islam</td> <td align="right"> 7,483,763 </td> <td align="center"> 0.04% </td> <td align="right"> 2,994 </td> </tr> <tr bgcolor=#FFFFF0> <td ALIGN=center> Central Europe </td> <td> Islam</td> <td align="right"> 9,956,108 </td> <td align="center"> 0.03% </td> <td align="right"> 3,201 </td> </tr> <tr bgcolor=#FFFFF0> <td ALIGN=center> Western Europe </td> <td> Islam </td> <td align="right"> 301,931 </td> <td align="center"> 0.1% </td> <td align="right"> 302 </td> </tr> <tr bgcolor=#FFFFF0> <td ALIGN=center> South Asia </td> <td> Islam</td> <td align="right"> 1,129,866,154 </td> <td align="center"> 13.4% </td> <td align="right">151,402,065 </td> </tr> <tr bgcolor=#FFFFF0> <td ALIGN=center> Southeast Asia </td> <td> Islam</td> <td align="right"> 234,693,997 </td> <td align="center"> 85.2% - 88.20% </td> <td align="right"> 199,959,285 - 207,000,105 </td> </tr> <tr bgcolor=#FFFFF0> <td ALIGN=center> Middle East </td> <td> Islam</td> <td align="right"> 65,397,521 </td> <td align="center"> 98% </td> <td align="right"> 64,089,570 </td> </tr> <tr bgcolor=#FFFFF0> <td ALIGN=center> Middle East </td> <td> Islam</td> <td align="right"> 27,499,638 </td> <td align="center"> 97% </td> <td align="right"> 26,674,649 </td> </tr> <tr bgcolor=#FFFFF0> <td ALIGN=center> Western Europe </td> <td> Islam</td> <td align="right"> 4,109,086 </td> <td align="center"> 0.49% </td> <td align="right"> 20,135 </td> </tr> <tr bgcolor=#FFFFF0> <td ALIGN=center> Middle East </td> <td> Islam</td> <td align="right"> 6,426,679 </td> <td align="center"> 12% - 16% </td> <td align="right"> 771,201 - 1,028,269 </td> </tr> <tr bgcolor=#FFFFF0> <td ALIGN=center> Western Europe </td> <td> Islam</td> <td align="right"> 58,147,733 </td> <td align="center"> 1.4% - 10%</td> <td align="right"> 11,331 - 113,307 </td> </tr> <tr bgcolor=#FFFFF0> <td ALIGN=center> Western Europe </td> <td> Islam</td> <td align="right"> 9,031,088 </td> <td align="center"> 3% </td> <td align="right"> 270,933 </td> </tr> <tr bgcolor=#FFFFF0> <td ALIGN=center> Western Europe </td> <td> Islam</td> <td align="right"> 7,554,661 </td> <td align="center"> 4.3% </td> <td align="right"> 324,850 </td> </tr> <tr bgcolor=#FFFFF0> <td ALIGN=center> Middle East </td> <td> Islam</td> <td align="right"> 19,314,747 </td> <td align="center"> 90% </td> <td align="right"> 17,383,272 </td> </tr> <tr bgcolor=#FFFFF0> <td ALIGN=center> East Asia </td> <td> Islam</td> <td align="right"> 22,858,872 </td> <td align="center"> 0.3% </td> <td align="right"> 45,717 </td> </tr> <tr bgcolor=#FFFFF0> <td ALIGN=center> Central Asia </td> <td> Islam</td> <td align="right"> 7,076,598 </td> <td align="center"> 90% </td> <td align="right"> 6,368,938 </td> </tr> <tr bgcolor=#FFFFF0> <td ALIGN=center> East Africa</td> <td> Islam</td> <td align="right"> 39,384,223 </td> <td align="center"> 35% - 40% </td> <td align="right"> 13,784,478 - 15,753,689 </td> </tr> <tr bgcolor=#FFFFF0> <td ALIGN=center> Southeast Asia </td> <td> Islam</td> <td align="right"> 65,068,149 </td> <td align="center"> 4.6% </td> <td align="right"> 2,993,135 </td> </tr> <tr bgcolor=#FFFFF0> <td ALIGN=center> West Africa </td> <td> Islam</td> <td align="right"> 5,701,579 </td> <td align="center"> 13.7% - 20% </td> <td align="right"> 781,116 - 1,140,316 </td> </tr> <tr bgcolor=#FFFFF0> <td ALIGN=center> Central America </td> <td> Islam</td> <td align="right"> 1,056,608 </td> <td align="center"> 5.8% </td> <td align="right"> 61,283 </td> </tr> <tr bgcolor=#FFFFF0> <td ALIGN=center> North Africa </td> <td> Islam</td> <td align="right"> 10,276,158 </td> <td align="center"> 98% <td align="right"> 10,070,635 </td> </tr> <tr bgcolor=#FFFFF0> <td ALIGN=center> Southern Europe </td> <td> Islam</td> <td align="right"> 71,517,100 </td> <td align="center"> 99% <td align="right"> 70,800,000 </td> </tr> <tr bgcolor=#FFFFF0> <td ALIGN=center> Central Asia </td> <td> Islam</td> <td align="right"> 5,097,028 </td> <td align="center"> 89% </td> <td align="right"> 4,536,355 </td> </tr> <tr bgcolor=#FFFFF0> <td ALIGN=center> East Africa </td> <td> Islam</td> <td align="right"> 30,262,610 </td> <td align="center"> 12.1% </td> <td align="right"> 3,661,775 </td> </tr> <tr bgcolor=#FFFFF0> <td ALIGN=center> Eastern Europe </td> <td> Islam</td> <td align="right"> 46,299,862 </td> <td align="center"> 1.1% </td> <td align="right"> 500,000 </td> </tr> <tr bgcolor=#FFFFF0> <td ALIGN=center> Middle East </td> <td> Islam</td> <td align="right"> 4,444,011 </td> <td align="center"> 61.75% - 76% </td> <td align="right"> 2,744,177 - 3,377,448 </td> </tr> <tr bgcolor=#FFFFF0> <td ALIGN=center> Western Europe </td> <td> Islam</td> <td align="right"> 60,776,238 </td> <td align="center">2.7% - 3.3% </td> <td align="right"> 1,640,958 - 2,000,000 </td> </tr> <tr bgcolor=#FFFFF0> <td ALIGN=center> North America </td> <td> Islam</td> <td align="right"> 301,139,947 </td> <td align="center"> 0.6% - 1% </td> <td align="right"> 1,806,840 - 3,011,399 </td> </tr> <tr bgcolor=#FFFFF0> <td ALIGN=center> Caribbean </td> <td> Islam</td> <td align="right"> 3,944,259 </td> <td align="center"> 0.13% </td> <td align="right"> 5,128 </td> </tr> <tr bgcolor=#FFFFF0> <td ALIGN=center> South America </td> <td> Islam</td> <td align="right"> 3,460,607 </td> <td align="center"> 0.01% </td> <td align="right"> 346 </td> </tr> <tr bgcolor=#FFFFF0> <td ALIGN=center> Central Asia </td> <td> Islam</td> <td align="right"> 27,780,059 </td> <td align="center"> 88% </td> <td align="right"> 24,446,452 </td> </tr> <tr bgcolor=#FFFFF0> <td ALIGN=center> Oceania </td> <td> Islam</td> <td align="right"> 208,900 </td> <td align="center"> 0.1% </td> <td align="right"> 209 </td> </tr> <tr bgcolor=#FFFFF0> <td ALIGN=center> South America </td> <td> Islam</td> <td align="right"> 26,023,528 </td> <td align="center"> 0.35% </td> <td align="right"> 91,082 </td> </tr> <tr bgcolor=#FFFFF0> <td ALIGN=center> Southeast Asia </td> <td> Islam</td> <td align="right"> 85,262,356 </td> <td align="center"> 0.079% </td> <td align="right"> 67,357 </td> </tr> <tr bgcolor=#FFFFF0> <td ALIGN=center> Middle East </td> <td> Islam</td> <td align="right"> 4,018,332 </td> <td align="center"> 83.74% </td> <td align="right"> 3,365,079 </td> </tr> <tr bgcolor=#FFFFF0> <td ALIGN=center> North Africa </td> <td> Islam</td> <td align="right"> 382,617 </td> <td align="center"> 99.8% </td> <td align="right"> 381,852 </td> </tr> <tr bgcolor=#FFFFF0> <td ALIGN=center> Middle East </td> <td> Islam</td> <td align="right"> 22,230,531 </td> <td align="center"> 99% </td> <td align="right"> 22,008,225 </td> </tr> <tr bgcolor=#FFFFF0> <td ALIGN=center> Southern Africa </td> <td> Islam</td> <td align="right"> 11,477,447 </td> <td align="center"> less than 1% </td> <td align="right"> 114,774 </td> </tr> <tr bgcolor=#FFFFF0> <td ALIGN=center> Southern Africa </td> <td> Islam</td> <td align="right"> 12,311,143 </td> <td align="center"> less than 1% </td> <td align="right"> 123,111 </td> </tr> <tr bgcolor=#99FFFF class="sortbottom"> <th colspan="2" > Total </th> <th> 6,671,226,000 </th> <th> 21.731% - 22.674% </th> <th> 1,449,765,439 - 1,512,655,647 </th> </tr> </table>

By region

Edit

These percentages were calculated by using the above numbers. The first percentage, 4th column, is the percentage of population that is Muslim in a region (Muslims in the region * 100/total population of the region). The last column shows the Muslim percentage compared to the total Muslim population of the world (Muslims in the region * 100/total Muslim population of the world).

(Note: Egypt, Sudan, and the Arab Maghreb countries are counted as part of North Africa, not Middle East).

Islam

| Region | Total Population | Muslims |  % Muslim |  % of Muslim total |
| --- | --- | --- | --- | --- |
| Central Africa | | | 15.714% | 0.852% |
| East Africa | | | 28.859% | 4.497% |
| North Africa | | | 89.579% | 12.199% |
| Southern Africa | | | 1.639% | 0.605% |
| West Africa | | | 50.783% | 9.077% |
| Total | | | 45.762% | 27.23% |

Islam

| Region | Total Population | Muslims |  % Muslim |  % of Muslim total |
| --- | --- | --- | --- | --- |
| Central Asia | | | 82.707% | 5.155% |
| East Asia | | | 2.592% | 2.683% |
| Middle East | | | 91.791% | 17.085% |
| South Asia | | | 28.947% | 28.184% |
| Southeast Asia | | | 41.931% | 16.228% |
| Total | | | 26.222% | 69.336% |

Islam

| Region | Total Population | Muslims |  % Muslim |  % of Muslim total |
| --- | --- | --- | --- | --- |
| Balkans | | | 12.483% | 0.553% |
| Central Europe | | | 0.7% | 0.035% |
| Eastern Europe | | | 10.256% | 1.479% |
| Western Europe | | | 3.613% | 0.92% |
| Total | | | 6.052% | 2.987% |

Islam in Islam and Islam

| Region | Total Population | Muslims |  % Muslim |  % of Muslim total |
| --- | --- | --- | --- | --- |
| Caribbean | | | 0.067% | 0.001% |
| Central America | | | 0.199% | 0.006% |
| North America | | | 1.147% | 0.347% |
| South America | | | 1.073% | 0.269% |
| Total | | | 1.101% | 0.822% |

Islam

| Region | Total Population | Muslims |  % Muslim |  % of Muslim total |
| --- | --- | --- | --- | --- |
| Oceania | | | 1.22% | 0.025% |

By largest population

Edit

Following is a list of countries with largest Muslim population on left and highest percentage of Muslim population in the country on the right.

By Population
By Percentage (citizens only)
Rank
Country
Muslim Population
 % Muslim
Country
 % Muslim
Muslim Population
1 </th>

<td> Indonesia </th> <td align="right"> 207,000,105 </th> <td align="center"> 88.20% </th> <td> Saudi Arabia </th> <td align="center"> 100% </th> <td align="right"> 26,417,599 </th>

<tr bgcolor=#FFFFF0> <td> 2 </th> <td> Pakistan </th> <td align="right"> 159,799,666 </th> <td align="center"> 97% </th> <td> Afghanistan </th> <td align="center"> 99% </th> <td align="right"> 31,571,023 </th> </td> <tr bgcolor=#FFFFF0> <td> 3 </th></td> <td> India </th> <td align="right"> 151,402,065 </th> <td align="center"> 13.4% </th> <td> Somalia </th> <td align="center"> 100% </th> <td align="right"> 8,591,629 </th> <tr bgcolor=#FFFFF0> <td> 4 </th> <td> Bangladesh </th> <td align="right"> 132,446,365 </th> <td align="center"> 88% </th> <td> Maldives </th> <td align="center"> 99.9% </th> <td align="right"> 348,756 </th> </td> <tr bgcolor=#FFFFF0> <td> 5 </th> <td> Egypt </th> <td align="right"> 70,530,237 </th> <td align="center"> 85% </th> <td> Western Sahara </th> <td align="center"> 99.8% </th> <td align="right"> 272,461 </th> </td> <tr bgcolor=#FFFFF0> <td> 6 </th> <td> Turkey </th> <td align="right"> 70,800,000 </th> <td align="center"> 99% </th> <td> Turkey </th> <td align="center"> 99% </th> <td align="right"> 70,800,000 </th> </td> <tr bgcolor=#FFFFF0> <td> 7 </th> <td> Nigeria </th> <td align="right"> 64,385,994 </th> <td align="center"> 45% </th> <td> Iran </th> <td align="center"> 98% </th> <td align="right"> 67,337,681 </th> </td> <tr bgcolor=#FFFFF0> <td> 8 </th> <td> Iran </th> <td align="right"> 64,089,571 </th> <td align="center"> 98% </th> <td> Algeria </th> <td align="center"> 99% </th> <td align="right"> 32,206,534 </th> </td> <tr bgcolor=#FFFFF0> <td> 9 </th> <td> Algeria </th> <td align="right"> 32,999,883 </th> <td align="center"> 99% </th> <td> Mauritania </th> <td align="center"> 99% </th> <td align="right"> 3,083,772 </th> </td> <tr bgcolor=#FFFFF0> <td> 10 </th> <td> Morocco </th> <td align="right"> 32,300,410 </th> <td align="center"> 99% </th> <td> Yemen </th> <td align="center"> 99% </th> <td align="right"> 20,519,792 </th> </td> <tr bgcolor=#FFFFF0> <td> 11 </th> <td> Afghanistan </th> <td align="right"> 31,571,023 </th> <td align="center"> 99% </th> <td> Tunisia </th> <td align="center"> 99% </th> <td align="right"> 9,974,201 </th> </td> <tr bgcolor=#FFFFF0> <td> 12 </th> <td> Saudi Arabia </th> <td align="right"> 26,417,599 </th> <td align="center"> 100% </th> <td> Oman </th> <td align="center"> 99% </th> <td align="right"> 2,971,567 </th> </td> <tr bgcolor=#FFFFF0> <td> 13 </th> <td> Sudan </th> <td align="right"> 26,121,865 </th> <td align="center"> 65% </th> <td> Comoros </th> <td align="center"> 99% </th> <td align="right"> 664,534 </th> </td> <tr bgcolor=#FFFFF0> <td> 14 </th> <td> Iraq </th> <td align="right"> 25,292,658 </th> <td align="center"> 97% </th> <td> Djibouti </th> <td align="center"> 99% </th> <td align="right"> 471,935 </th> </td> <tr bgcolor=#FFFFF0> <td> 15 </th> <td> Uzbekistan </th> <td align="right"> 23,897,563 </th> <td align="center"> 89% </th> <td> Morocco </th> <td align="center"> 98.7% </th> <td align="right"> 32,300,410 </th> </td> <tr bgcolor=#FFFFF0> <td> 16 </th> <td> Ethiopia </th> <td align="right"> 22,533,500 </th> <td align="center"> 31.2% </th> <td> Pakistan </th> <td align="center"> 98% </th> <td align="right"> 162,487,489 </th> </td> <tr bgcolor=#FFFFF0> <td> 17 </th> <td> Russia </th> <td align="right"> 21,513,046 </th> <td align="center"> 15% </th> <td> Libya </th> <td align="center"> 97% </th> <td align="right"> 5,592,596 </th> </td> <tr bgcolor=#FFFFF0> <td> 18 </th> <td> Yemen </th> <td align="right"> 20,519,792 </th> <td align="center"> 99% </th> <td> Iraq </th> <td align="center"> 97% </th> <td align="right"> 25,292,658 </th> </td> <tr bgcolor=#FFFFF0> <td> 19 </th> <td> China </th> <td align="right"> 19,594,707 </th> <td align="center"> 1.5% </th> <td> Tajikistan </th> <td align="center"> 95% </th> <td align="right"> 6,805,330 </th> </td> <tr bgcolor=#FFFFF0> <td> 20 </th> <td> Syria </th> <td align="right"> 16,234,901 </th> <td align="center"> 88% </th> <td> Jordan </th> <td align="center"> 95% </th> <td align="right"> 5,471,745 </th> </td> <tr bgcolor=#FFFFF0> <td> 21 </th> <td> Malaysia </th> <td align="right"> 14,467,694 </th> <td align="center"> 60.4% </th> <td> Qatar </th> <td align="center"> 95% </th> <td align="right"> 819,898 </th> </td> <tr bgcolor=#FFFFF0> <td> 22 </th> <td> Tanzania </th> <td align="right"> 12,868,224 </th> <td align="center"> 35% </th> <td> Senegal </th> <td align="center"> 94% </th> <td align="right"> 10,459,222 </th> </td> <tr bgcolor=#FFFFF0> <td> 23 </th> <td> Mali </th> <td align="right"> 11,062,376 </th> <td align="center"> 90% </th> <td> Azerbaijan </th> <td align="center"> 93.4% </th> <td align="right"> 7,584,311 </th> </td> <tr bgcolor=#FFFFF0> <td> 24 </th> <td> Niger </th> <td align="right"> 10,499,343 </th> <td align="center"> 90% </th> <td> Bahrain </th> <td align="center"> 93.1% </th> <td align="right"> 659,682 </th> </td> <tr bgcolor=#FFFFF0> <td> 25 </th> <td> Senegal </th> <td align="right"> 10,459,222 </th> <td align="center"> 94% </th> <td> Egypt </th> <td align="center"> 91% </th> <td align="right"> 70,530,237 </th> </td> <tr bgcolor=#FFFFF0> <td> 26 </th> <td> Tunisia </th> <td align="right"> 9,974,201 </th> <td align="center"> 99% </th> <td> Mali </th> <td align="center"> 90% </th> <td align="right"> 11,062,376 </th> </td> <tr bgcolor=#FFFFF0> <td> 27 </th> <td> Somalia </th> <td align="right"> 8,548,670 </th> <td align="center"> 99% </th> <td> Niger </th> <td align="center"> 90% </th> <td align="right"> 10,499,343 </th> </td> <tr bgcolor=#FFFFF0> <td> 28 </th> <td> Guinea </th> <td align="right"> 8,047,686 </th> <td align="center"> 85% </th> <td> Gambia </th> <td align="center"> 95% </th> <td align="right"> 1,433,930 </th> </td> <tr bgcolor=#FFFFF0> <td> 29 </th> <td> Azerbaijan </th> <td align="right"> 7,584,311 </th> <td align="center"> 93.4% </th> <td> Uzbekistan </th> <td align="center"> 89% </th> <td align="right"> 23,897,563 </th> </td> <tr bgcolor=#FFFFF0> <td> 30 </th> <td> Burkina Faso </th> <td align="right"> 7,449,626 </th> <td align="center"> 52% </th> <td> Turkmenistan </th> <td align="center"> 89% </th> <td align="right"> 4,407,352 </th> </td> <tr bgcolor=#FFFFF0> <td> 31 </th> <td> Kazakhstan </th> <td align="right"> 7,137,346 </th> <td align="center"> 47% </th> <td> Indonesia </th> <td align="center"> 88.2% </th> <td align="right"> 207,000,105 </th> </td> <tr bgcolor=#FFFFF0> <td> 32 </th> <td> Tajikistan </th> <td align="right"> 6,805,330 </th> <td align="center"> 95% </th> <td> Bangladesh </th> <td align="center"> 88% </th> <td align="right"> 127,001,272 </th> </td> <tr bgcolor=#FFFFF0> <td> 33 </th> <td> Côte d'Ivoire </th> <td align="right"> 6,677,043 </th> <td align="center"> 38.6% </th> <td> Syria </th> <td align="center"> 88% </th> <td align="right"> 16,234,901 </th> </td> <tr bgcolor=#FFFFF0> <td> 34 </th> <td> Congo (Kinshasa) </th> <td align="right"> 6,008,500 </th> <td align="center"> 10% </th> <td> Guinea </th> <td align="center"> 85% </th> <td align="right"> 8,047,686 </th> </td> <tr bgcolor=#FFFFF0> <td> 35 </th> <td> Libya </th> <td align="right"> 5,592,596 </th> <td align="center"> 97% </th> <td> Kuwait </th> <td align="center"> 85% </th> <td align="right"> 1,985,300 </th> </td> <tr bgcolor=#FFFFF0> <td> 36 </th> <td> Jordan </th> <td align="right"> 5,471,745 </th> <td align="center"> 95% </th> <td> West Bank and Gaza </th> <td align="center"> 84% </th> <td align="right"> 3,159,999 </th> </td> <tr bgcolor=#FFFFF0> <td> 37 </th> <td> Chad </th> <td align="right"> 5,306,266 </th> <td align="center"> 54% </th> <td> Kyrgyzstan </th> <td align="center"> 80% </th> <td align="right"> 4,117,024 </th> </td> <tr bgcolor=#FFFFF0> <td> 38 </th> <td> United States </th> <td align="right"> 4,558,068 </th> <td align="center"> 1.5% </th> <td> United Arab Emirates </th> <td align="center"> 76% </th> <td align="right"> 1,948,041 </th> </td> <tr bgcolor=#FFFFF0> <td> 39 </th> <td> Turkmenistan </th> <td align="right"> 4,407,352 </th> <td align="center"> 89% </th> <td> Albania </th> <td align="center"> 70% </th> <td align="right"> 2,508,277 </th> </td> <tr bgcolor=#FFFFF0> <td> 40 </th> <td> Philippines </th> <td align="right"> 4,392,873 </th> <td align="center"> 5% </th> <td> Brunei </th> <td align="center"> 64.5% </th> <td align="right"> 241,602 </th> </td> <tr bgcolor=#FFFFF0> <td> 41 </th> <td> France </th> <td align="right"> 4,214,790 </th> <td align="center"> 6.9% </th> <td> Sudan </th> <td align="center"> 65% </th> <td align="right"> 26,121,865 </th> </td> <tr bgcolor=#FFFFF0> <td> 42 </th> <td> Kyrgyzstan </th> <td align="right"> 4,117,024 </th> <td align="center"> 80% </th> <td> Malaysia </th> <td align="center"> 60.4% </th> <td align="right"> 14,467,694 </th> </td> <tr bgcolor=#FFFFF0> <td> 43 </th> <td> Uganda </th> <td align="right"> 4,090,422 </th> <td align="center"> 15% </th> <td> Sierra Leone </th> <td align="center"> 60% </th> <td align="right"> 3,610,585 </th> </td> <tr bgcolor=#FFFFF0> <td> 44 </th> <td> Mozambique </th> <td align="right"> 3,881,340 </th> <td align="center"> 20% </th> <td> Lebanon </th> <td align="center"> 55% </th> <td align="right"> 2,142,570 </th> </td> <tr bgcolor=#FFFFF0> <td> 45 </th> <td> Sierra Leone </th> <td align="right"> 3,610,585 </th> <td align="center"> 60% </th> <td> Burkina Faso </th> <td align="center"> 52% </th> <td align="right"> 7,449,626 </th> </td> <tr bgcolor=#FFFFF0> <td> 46 </th> <td> Ghana </th> <td align="right"> 3,364,776 </th> <td align="center"> 16% </th> <td> Chad </th> <td align="center"> 54% </th> <td align="right"> 5,306,266 </th> </td> <tr bgcolor=#FFFFF0> <td> 47 </th> <td> Cameroon </th> <td align="right"> 3,276,001 </th> <td align="center"> 20% </th> <td> Nigeria </th> <td align="center"> 50% </th> <td align="right"> 64,385,994 </th> </td> <tr bgcolor=#FFFFF0> <td> 48 </th> <td> Thailand </th> <td align="right"> 3,272,218 </th> <td align="center"> 5% </th> <td> Eritrea </th> <td align="center"> 50% </th> <td align="right"> 2,280,799 </th> </td> <tr bgcolor=#FFFFF0> <td> 50 </th> <td> Mauritania </th> <td align="right"> 3,083,772 </th> <td align="center"> 99.9% </th> <td> Ethiopia </th> <td align="center"> 50% </th> <td align="right"> 37,533,500 </th> </td> <tr bgcolor=#FFFFF0> <td> 51 </th> <td> Germany </th> <td align="right"> 3,049,961 </th> <td align="center"> 3.7% </th> <td> Bosnia </th> <td align="center"> 40% </th> <td align="right"> 1,820,879</th> </td> <tr bgcolor=#FFFFF0> <td> 52 </th> <td> Oman </th> <td align="right"> 2,971,567 </th> <td align="center"> 99% </th> <td> Côte d'Ivoire </th> <td align="center"> 38.6% </th> <td align="right"> 6,677,043 </th> </td> <tr bgcolor=#FFFFF0> <td> 53 </th> <td> Albania </th> <td align="right"> 2,004,480 </th> <td align="center"> 58% </th> <td> Guinea </th> <td align="center"> 38% </th> <td align="right"> 538,090 </th> </td> <tr bgcolor=#FFFFF0> <td> 54 </th> <td> Malawi </th> <td align="right"> 2,431,784 </th> <td align="center"> 20% </th> <td> Tanzania </th> <td align="center"> 35% </th> <td align="right"> 12,868,224 </th> </td> <tr bgcolor=#FFFFF0> <td> 55 </th> <td> Kenya </th> <td align="right"> 2,368,071 </th> <td align="center"> 7% </th> <td> Macedonia </th> <td align="center"> 33.3% </th> <td align="right"> 685,305 </th> </td> <tr bgcolor=#FFFFF0> <td> 56 </th> <td> Eritrea </th> <td align="right"> 2,280,799 </th> <td align="center"> 50% </th> <td> Suriname </th> <td align="center"> 22% </th> <td align="right"> 96,391 </th> </td> <tr bgcolor=#FFFFF0> <td> 57 </th> <td> Serbia and Montenegro </th> <td align="right"> 2,274,126 </th> <td align="center"> 21% </th> <td> Serbia and Montenegro </th> <td align="center"> 21% </th> <td align="right"> 2,274,126 </th> </td> <tr bgcolor=#FFFFF0> <td> 58 </th> <td> Lebanon </th> <td align="right"> 2,142,570 </th> <td align="center"> 55%</th> <td> Mozambique </th> <td align="center"> 20% </th> <td align="right"> 3,881,340 </th> </td> <tr bgcolor=#FFFFF0> <td> 59 </th> <td> Kuwait </th> <td align="right"> 1,985,300 </th> <td align="center"> 85% </th> <td> Cameroon </th> <td align="center"> 20% </th> <td align="right"> 3,276,001 </th> </td> <tr bgcolor=#FFFFF0> <td> 60 </th> <td> United Arab Emirates </th> <td align="right"> 1,948,041 </th> <td align="center"> 76% </th> <td> Malawi </th> <td align="center"> 20% </th> <td align="right"> 2,431,784 </th> </td> </table>

References

Edit




External links

Edit